Induced abortion has always been a subject of many debates. On the one side, there were those who thought that abortion should be legalized. On the other side, there are those who are against legalization in any case. I think the majority are those who find themselves somewhere between those two. Their attitude is that induced abortion should be legalized in certain cases. For example, women can abort a pregnancy caused by rape, juvenile pregnancy or if the pregnancy is a risk to her…
Here are induced abortion pros and cons, as well as some of my thoughts on the subject. To all those who are curious about the subject, this article will solve much doubt, and perhaps create some new ones. Of course, I recommend you to continue reading. Then, share your attitude about induced abortion pros and cons with us by voting for or against abortion. My goal is increasing people's awareness of induced abortion as a big social and ethical problem. Also, my goals are to share opinions and find out how much people actually are for and how much are against abortion.
Legalization of induced abortion in countries
On abort73.com, we can see that 60% of the global population lives in countries where abortion is broadly legal. Approximately 25% live in countries where it is broadly restricted. Generally speaking, abortion is legal in most of North America and Europe.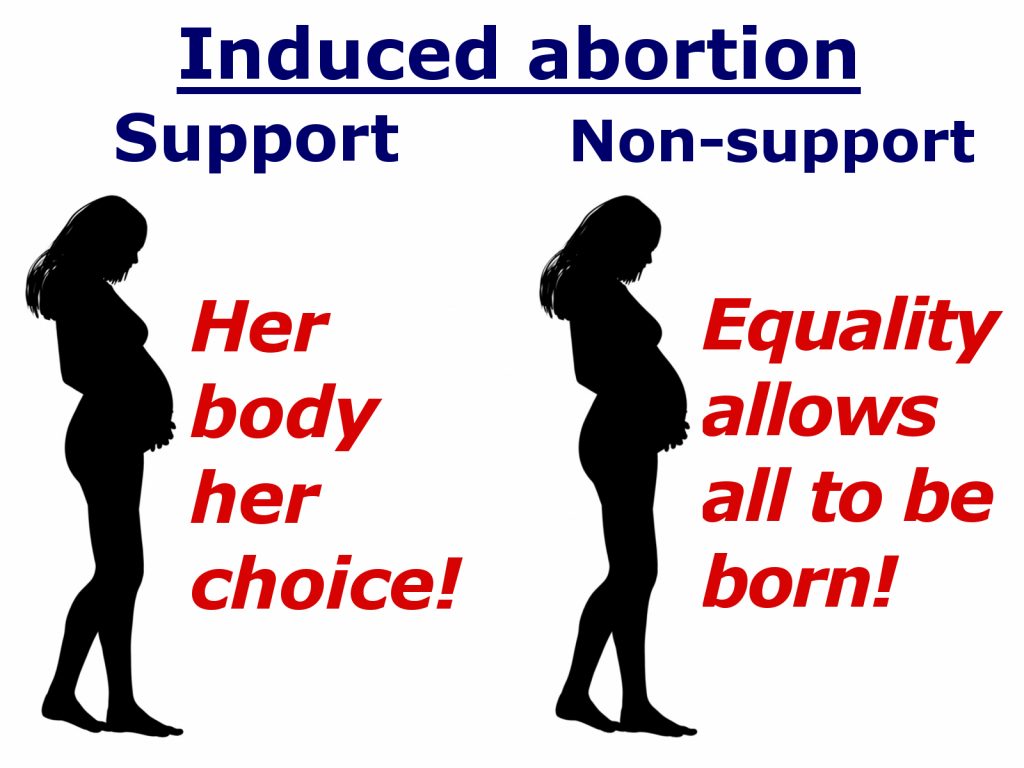 Countries FOR abortion
Hundreds of years ago, society considered induced abortion as the murder of an unborn child. The society punished women who aborted even punished them to death in all European countries for several centuries. However, since 1900, liberalization of this term comes to light.
The Soviet Union (1919), Iceland (1935), Sweden (1938) were among the first countries which legalized some or all forms of abortion. In 1935, Nazi Germany legalized induced abortions of women who had some hereditary disorders. Still, abortion was strictly prohibited to women who had pure Arian heritage. That isn't surprising considering the Nazi ideology, isn't it?
Since the 1960s, many Europian countries have legalized abortion. Among them are England, France, USA, Italy, Spain, Finland, Norway, the Netherlands, South Africa, Tunisia and many more.
Countries AGAINST abortion
On the other side, the United Arab Emirates, Malta, Chile, and Salvador don't legalize abortion.
Countries FOR abortion IN CERTAIN SITUATIONS
Jamaica, Ireland, Venezuela and Brazil are some of the countries which have legalized abortion but only in the case of rape, incest or the risk of a pregnant woman's life.
The abortion impact on the global natural increase
This is one of the items that lead to disagreement between supporters and non-supporters of abortion. According to the World Health Organization, every year there is an estimated 40-50 million abortions. This corresponds to approximately 125,000 abortions per day. Many non-supporters justify their attitudes by that data which shows that natality is actually lower by 40-50 million children every year. However, supporters of abortion justify their attitudes by the fact that natural increase isn't declining. In fact, according to worldometers.info, the world natural increase was about 7,550,262,101 in 2017. According to that, we can see that it increases every year. Nevertheless, we can conclude that abortions keep natural increase up to normal figures because too much population in relation to the space of our planet can lead to major natural and social disasters. But, is this conclusion in line with ethics?
Can reasons justify abortion or not?
The reasons for abortion are different, but most women abort because of pregnancy caused by rape, financial problems, a pregnancy that is at risk to her health or child's health, emotional problems, juvenile pregnancy…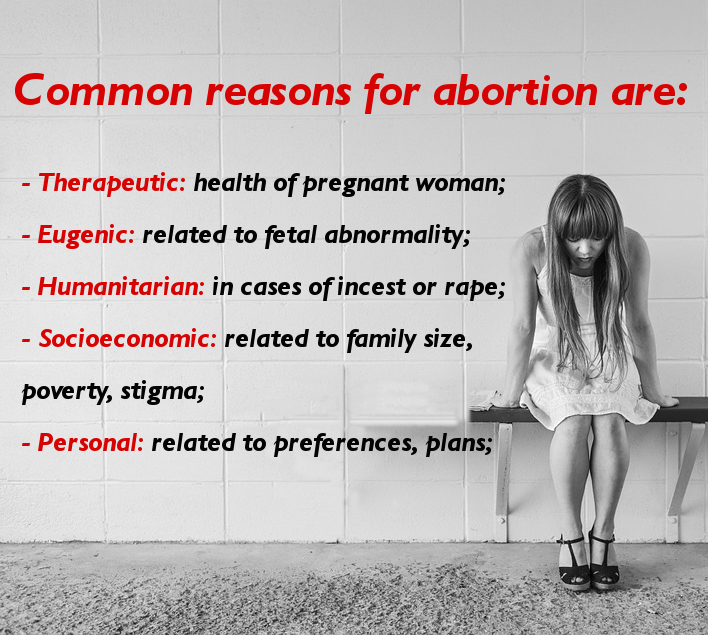 Induced abortion pros
In the case of estimating that the fetus has some disorders, abortion supporters claim that it's a better solution to make an abortion than a child and parents go through life's difficulties that usually follow certain disorders later. Also, because the Theory of evolution explains that only the strongest survive, the abortions of children with physical or mental difficulties actually encourage human evolution.
On the other hand, are we different from the Spartans who killed newborn with disorders in order to keep their society strong? The difference can make reasons. The Spartans wanted to make a powerful militaristic society. Now, society has different models. Modern society stands for kid's happiness although in practice it often doesn't look like that. However, most doctors and parents generally consider that a child with some disorders will not be happy. Therefore, they justify abortion in the case of diagnosing some of the fetal disorders.
Induced abortion cons
On the other side, there is the question of why children with disabilities are pre-attributed to an unhappy life? Does a disorder make their adaptation to life difficult?
There are many cases which prove that children with some inborn anomaly are able to adapt to life very well. Example, where children with disabilities of using hands perform all daily activities by using legs. Also, perhaps children with Down's syndrome aren't able to be scientists, but they know to love so much that many scientists can just take their cap off. Does that mean that it's not difficult for children with some special need to adapt to society, but that society is still not adapted to them? By that, I am not just thinking about an adaptation of elevators, technical devices or media program to children with disabilities. First of all, I think about how people access to children with some disabilities. Most of them access to worry, sadness, helplessness, negativity.
Consider a society where people believe that children with special needs are Gods. What you think, would women abort when they heard that such a child grows in them? I think it would reward them to give birth to such a child. Or, consider, would mothers opt for an abortion in such cases if they don't care about whether they'll be able to properly raise such children properly. My opinion is, and of course, you don't have to agree, if we change the prejudices towards children with special needs to positive thinking about their births and existence, such reasons for abortion would be rare.
Does illegalization prevent induced abortion?
Induced abortion pros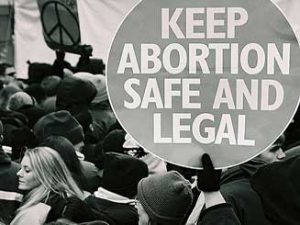 Supporters argue that illegalization doesn't prevent abortion and I absolutely agree with that attitude. On the contrary, in countries where abortion is illegitimate, many women also opt for an abortion. Some go to other countries to abort a pregnancy, as Irish women often go to England. Others opt for unprofessional abortion interventions, which often cause serious complications. Also, cases of pregnant women suicides in countries which don't legalize induced abortion are very often.
Induced abortion cons
Non-supporters are aware that illegalization doesn't prevent mothers from aborting. Although, they claim that it certainly reduces the number of abortions. We can't prove that because evidence about the number of women who illegally abort doesn't exist in countries where the abortion is illegal. They abort without registration, precisely because that is not allowed. However, the non-supporters of abortion claim that punishing mothers who abort pregnancies is just. Mothers can illegally abort a pregnancy, but it's important for a just society that she is persecuted for her crime, i.e. the murder of an unborn child.
It's absolutely essential that women often go for induced abortion regardless if they are legalized or not. That fact gives us the clear conclusion that illegalization doesn't prevent this phenomenon. Does this mean that we should actually ask the question, not about legalization of abortion, but how many women and men are familiar with this problem? Perhaps the key to solving this problem is to increase awareness of how to prevent unwanted pregnancy, or how much birth of a child should bring, regardless whether it was a result of rape or the child has some special needs.
Induced abortions pros and cons in relation to complications
Induced abortion cons
Non-supporters claim that abortion isn't a simple procedure and can result in numerous complications. Among complications are mental disorders in women. Namely, whether due to the hormones imbalance or a tragic experience of abortion, the depression of a woman is normal after it. Is depression, as an accompanying condition of abortion, a sign that even women who opt for abortion still consider abortion as an unjust act somewhere in her subconscious? Are women depressed after abortion because of guilt or a feeling of helplessness because they think that it can not be different?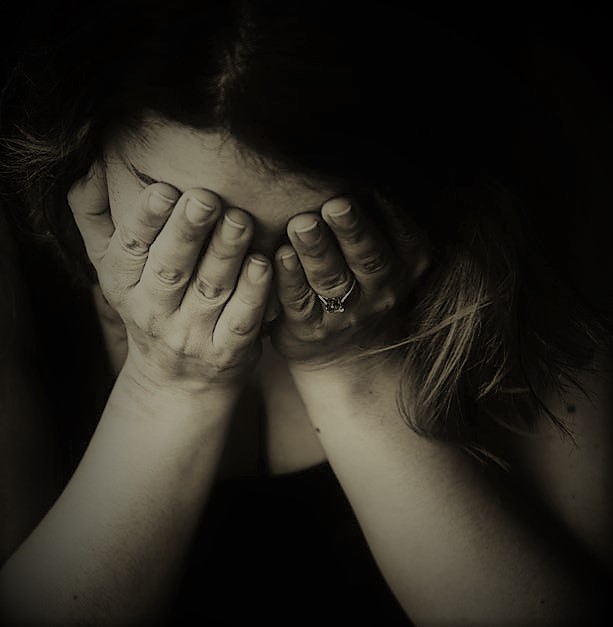 Induced abortion pros
In utility of induced abortion in relation to complications, the state is that the sun always comes after the rain. Life is often cruel, but important is the result of cruelty. Of course, abortions aren't pleasant events for women but many support abortion as a way to avoid more depressing situations, such as situations where parents have no basis for a normal child's life or deterioration of a woman's health or her death.
The most severe complications of abortion include mother's death, sterility or various disorders in a future pregnancy. However, supporters claim that abortion is a simple, day-to-day procedure and that the severe complications are very rare. As for fertility, there is not even scientific evidence that it is caused by abortion, many scientists claim.
I think that complications of abortion aren't a measure of whether abortion is just. All surgeries can cause complications, but if they are significant for our health, of course, they are needed. Labour can also lead to perhaps more numerous and more serious complications. Still, imagine that we forbid the childbirths because of possible complications? It's crazy, isn't?
Is the embryo a human or when does it become a human?
This question is crucial in the discussion about abortion pros and cons. In fact, if we would have the right answer to those, we would resolve most of the dilemmas about abortion.
Induced abortion pros
Induced abortion pros include the opinion that a woman has the right to decide about abortion because the embryo is a part of her body for a certain period. They consider that the embryo is not a human. It's the tissue, a bloody mass or an aggregate of cells. As a part of a woman, she has a right to decide whether the embryo will develop into a being or not. That make attitudes that a man has no right to decide whether a woman will abort or not. An embryo is part of a woman's body, not a man's.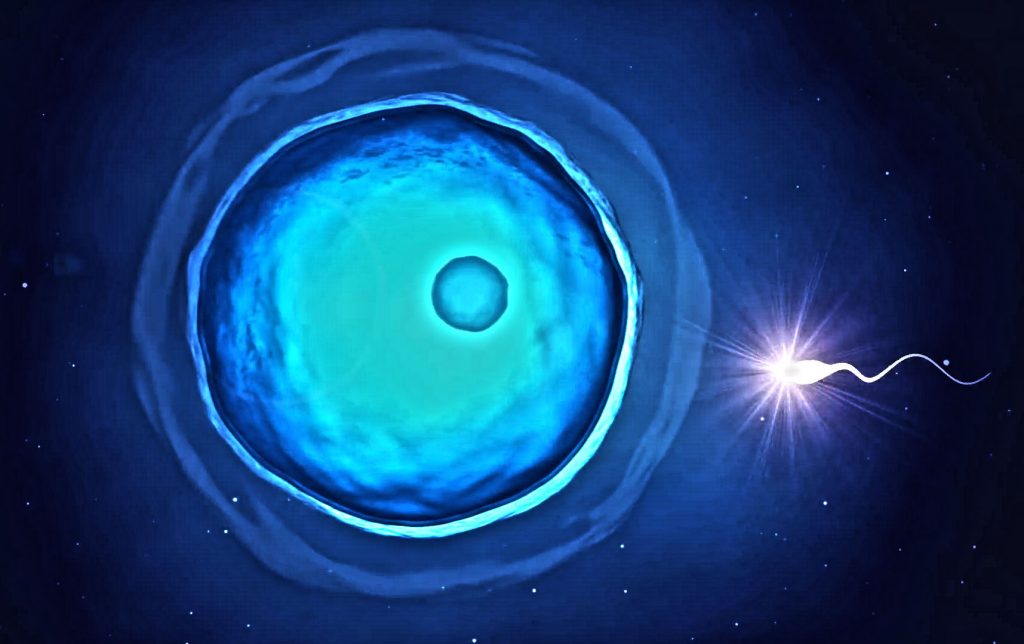 Induced abortion cons
On the other side, abortion non-supporters argue that the fetus is a living being from the conception originated from a man and a woman. He isn't part of a mother because it has own genes that are the basis for its development. In addition, the fetus in the meantime also receives blood that can be a different blood type compared to the mother's and doesn't interfere with the mother's blood due to the placenta. That is why non-supporters of abortion consider that a fetus isn't part of a mother, but a particular organism in her. That's why they consider abortion as the murder of another human being. Also, their attitude is that the man also has the right to decisions about his still unborn child. He/she develops in a mother, but a man also has impacts on his/her creation from the beginning. Therefore, the embryo is his child from conception too.
Support depends on situations
Between induced abortion pros and cons, there is the opinion that the embryo isn't a being from conception, but it becomes one from a certain gestational period. Since that moment, abortions are not acceptable to them.
However, there are also great differences in thinking about the moment the embryo becomes a living being. Many claims that it is a living being from the period when its heart starts to beat (about 18 days). The others think that a fetus becomes a being when its brain becomes active (from 24 weeks). There are many experts who believe that a living being is one who has a developed cardiac function, brain activity, but also a respiratory ability. The respiratory system develops during the entire pregnancy, but a fetus is ready for breathing outside of the mother's womb from 20 weeks. Still, many people believe that embryo becomes a human when it develops into a fetus, i.e. from 12 weeks.
It's true that this confusion arises precisely because of such important issues on which we can only guess the answers. What is life? How does it happen? What is a living being and what is a man? Is there anything that determines our destiny or we create destiny by our will and acts? If we would have reliable answers to these questions, we would surely be able to determine what is right: support for induced abortion, induced abortion prohibition or something in between these two.
Recommendation
To every book lover who wants to know something more about induced abortion pros and cons, I recommend the books in the presentation below. These interesting and useful books discover not only induced abortion pros and cons but many other different facts about abortion as well.
P.S.
What are your attitudes about abortion? Do you know some more induced abortion pros or cons? Share your opinion with us and give us your comments on this article too. Also, you can give your voice for or against abortion and see how many people have the same attitude as you.
Spread the vote
Loading ...