If you want to be a good parent to your child, it's important to have authority. However, there are three types of parents as authority, and only one of them is suitable for normal child development. In this article, you will discover what type of parent you need to be and why you shouldn't be extremely permissive or too strict.
The authoritarian type of parents
The authoritarian type of parent is otherwise called a military type. Such a parent is the master of the family. A child has the duty to listen to him submissively and to perform what the parent has authorized him to do. Such a parent believes that children are only capable of what adults have taught them. He is convinced that children will behave correctly only if they follow the instructions and if they are under the control of the elderly. For him, the upbringing child must be an obedient child.Therefore, his child must obey without a conversation.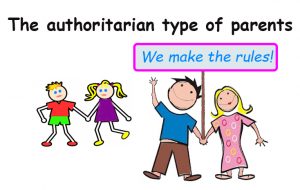 An authoritarian parent dedicates particular attention and effort to the correct adherence to house rules and treats any deviation from them as a violation of discipline. In the case of an offence, he uses penalties. Such a parent requires certain behaviour from the child, not taking into account whether it is in harmony with the individual characteristics and needs of the child.
What are their children like?
A child is usually submissive to an authoritarian parent's strict voice fearing that it will make a parent angry. It is obedient to the parent's power, but not because it respects the parents. Children don't perceive an authoritarian parent as a person from whom they expect understanding, help, and acceptance. He perceives them as a person who determines what a child needs to be. That's why a child of such parents usually feels incompetent and weak. It creates images of himself as an inferior, helpless person who is always wrong when it's active and tries to initiate.
The authoritarian way of education can result in order, obedience and discipline, because the child suppresses its emotions. However, that can often have severe consequences, especially when the child expresses itself and begins to have uncontrollable fights. A child will develop in a subordinate, withdrawn or in an extreme and aggressive person.
The permissive type of parents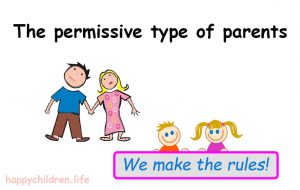 The permissive type of parent is also known as the anarchic or "hippie" type of parent. The parents of this type allow their children to do everything that they want. A permissive parent doesn't use rules, punishments or scold the kid. The roles have been replaced. The child behaves like a parent because it always knows what it wants and how to get that. On another side, the child's strong will and demands suppress parent's.
In the modern age, in relation to other types of parents, the permissive parents overcome. Also, many of them have surpassed improving their parenting skills. Parents realize, first of all, they need to change their behaviour if they want the child to change as well. They should be an authority on trust, understanding, and acceptance. Parents should act as an authority so that the child also treats them like that.
What are their children like?
A permissive parent might appear uninterested to the child and that might cause the child to think that it isn't adored. Such a child becomes insecure and unstable. That's why its behaviour is often variable. A child shows complete independence or complete dependence on parents, complete trust or distrust. But, the kid doesn't have a problem. It just tries to test its possibilities in relation to the environment, because the permissive parent didn't explain the rules and duties to it.
The rules ensure the normal organization of the child's life. A child should feel free in the social system, but without established rules from the beginning, it will not fit in. In every kid normally exist instinctive desires. Children need external control to protect them from those desires. By external control, a child creates internal control, conscience, moral awareness, and feelings of guilt. Children of permissive parents miss that. As a result, that children are most often spoiled, disbanded, demanding, feeling the need to always be at the center of attention. If a parent doesn't meet some of their requests, they react with anger and aggressiveness.
The authoritative type of parents
From all 3 types of parents, this is the best type.The authoritative type of parents is also known as a democratic parent. A democratic parent is one who creates a good organization without force upon a child but actively including it in creating. On that way, parent establishes mutual respect and trust between them. Such a parent tries to understand the child. He tries to provide a family atmosphere for development the positive feelings and creativity in the child. He organizes a family life according to the possibilities, interests and needs of the child, but doesn't neglect the other family members or themselves.
An authoritative parent influences the child's attitudes and opinions without many requests, criticism and moralization. The key is giving the examples. In cases of child's unacceptable behaviour, a parent should redirect a child in a positive direction, relying on what is positive, constructive and open to cooperation in the child.
An authoritative parent can and should scold a child in certain situations. However, because he builds cooperation with the child, his rebuttals might not cause negative consequences. On another word, since scolding come from parents as an equal person, there is no humiliation, fear, confusion and internal resistance in the child. Moreover, the child is usually aware of parent's well-being, so it is much more willing to accept his advice.
If your child has the freedom to tell you if you didn't respect some established families rules, you are the authoritative parent type for sure. For example, if you didn't wash your hands before lunch, and your child tells you that, that is a sign that the child has really adopted, accepted and understood the rules and has self-discipline.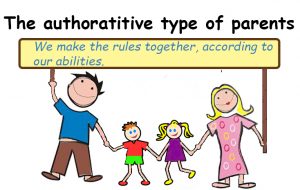 What are their children like?
A democratic parent encourages a child to have and express its own opinions and suggestions and to respect others, without conformity. His authority builds on understanding, sympathy and closeness with the child. So, a child acquires trust in the parent and feels accepted and loved. It will develop into a self-confident, initiative and creative person with built-in internal control of its spirit for sure.
Advice how to be an authoritative parent or not to be like other types of parents
First of all, you must be aware that authority based on a quality of personality is the only adequate for normal child's development. But, if you want your child to respects your personality, you give understanding to its personality too. Try to better understand and accept its emotions, abilities and interests. Be a parent, not a boss or child's servant. Don't use beatings as educational measures. Also, don't approve of the child's bad conduct. Instead of that, through conversation and a positive experience, try to explain to your child to understand and correct its behaviour.
Which of mentioned 3 types of parents are you? If you didn't find yourself in descriptions of all 3 types of parents, you can take the test which type of parents are you.